Institute for International Business

Fast track your career development with a unique semester program that integrates business theory and practice, with real cultural immersion experience.

US Studies & NYC Internships

The SUNY IIB one semester certificate in business delivers a blended curriculum of study and work that offers you both the experience of interning in New York's fast-paced world of business, and studying on campus at nationally recognized American University. Our 2- month academic study program is followed by a 2-month professional internship in New York. IIB's program combines all the benefits of traditional American college life with all the excitement of the big city business world.

After just 4 months, you will graduate with a Certificate in American Business Practice from the SUNY IIB at New Paltz!
---
On-Campus at SUNY New Paltz
IIB students are immersed in the American college experience, attending classes at New Paltz School of Business, and taking part in a wide variety of on-and off-campus activities. Hanging out in the campus quad, playing Frisbee, listening to a music department performance, or simply go to dinner in the campus dining hall, all offer easy cultural immersion opportunities into campus life. There are multiple on-campus networking events, clubs, and guest lectures from visiting scholars and celebrities. Another popular meeting place on-campus is the fully-equipped state-of-the-art Athletic and Wellness Center, which offers fitness classes in everything from cardio kickboxing to yoga. Off-campus, New Paltz offers an ideal glimpse of small town America where students enjoy relaxing nights out in town with dinner, drinks, billiards, open microphone nights, and game nights, often in the company of IIB faculty and staff.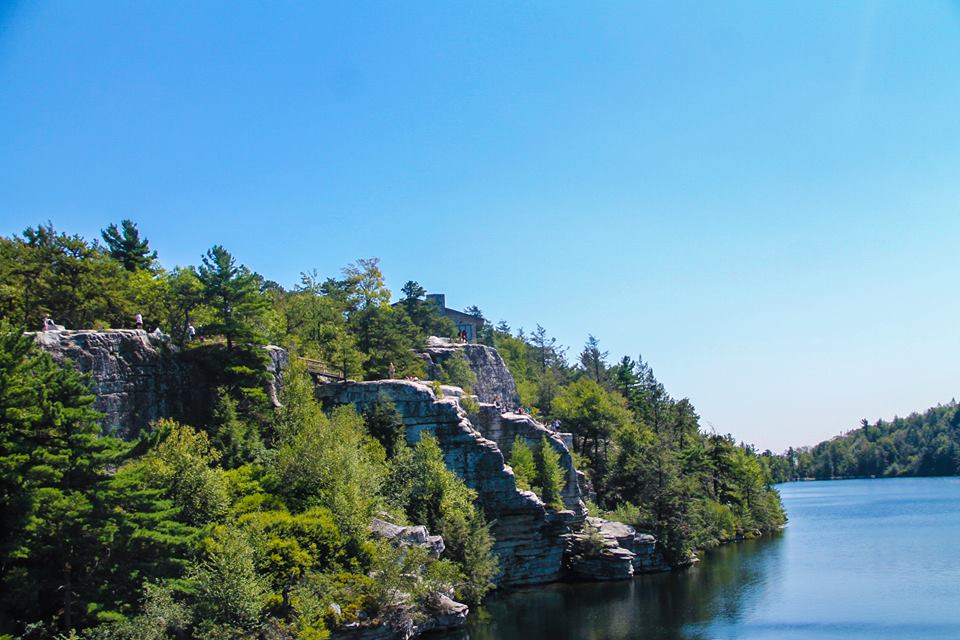 Set in upstate New York between the Hudson River and the Shawangunk Mountains, New Paltz has great opportunities for kayaking on the river, horseback riding, zip lining in the Catskill Mountains, and other fun outings sponsored by the university and various student organizations. Conveniently located just a few hours' drive from New York City, Boston, and Washington D.C, New Paltz also presents exciting opportunities for weekend trips. Options include historical and cultural destinations, as well as some of the best shopping opportunities on east coast!
---
New York City- The world's business & cultural capital
Become a New Yorker for two months and enjoy the myriad of social and cultural attractions that the city has to offer in the arts, entertainment, publishing and communications. From Broadway to the Bowery, from Wall Street to Madison Avenue, and from Central Park to Park Avenue, New York City offers the perfect backdrop to an incredible internship experience. After completing their academic studies on New Paltz campus, students move to New York City. They put their new-found knowledge to work, as full-time interns in a fast-paced New York business or international organizations. Students visit and can intern at network studios, national publications, fashion houses, advertising agencies and international NGOs. Networking events are organized at various Chambers of Commerce, concerts in Central Park, movies, harbor cruises, barbecues with fellow participants, and trips to the U.N. New York's own exciting social scene assures students of an unforgettable cultural immersion, taking advantage of world-famous restaurants, theaters, galleries and museums.
---
Program Schedule
Spring 2020

October 15, 2019

Application deadline

January 15, 2020

Program start date (Arrival date at JFK / New Paltz)

January 16-17, 2020

IIB Program Orientation; orientation to campus and New Paltz

January 18 - 20

Free long weekend to get acclimated to New Paltz

January 21

First day of classes

March 13, 2020

Academic portion ends; move to NYC, check into NYC housing

March 14 & 15, 2020

Free weekend to get acclimated to NYC

March 16, 2020

Internships begin in NYC

May 13, 2020

Last day of internship

May 13, 2020

IIB Graduation ceremony in NYC

May 15, 2020

Program ends; check out of NYC housing
Fall 2019

April 15, 2020

Application deadline

August 19, 2020

Program start date (Arrival date at JFK / New Paltz)

August 20 - 21, 2020

IIB Program Orientation; orientation to campus and New Paltz

August 22 & 23, 2020

Free weekend to get acclimated to New Paltz

August 24, 2020

First day of classes

October 16, 2020

Academic Portion ends; move to New York City program Housing

October 17 & 18, 2020

Free weekend to get acclimated to NYC

October 19, 2020

Internships begin in NYC

December 16, 2020

Last day of internship

December 16, 2020

IIB Graduation ceremony in NYC

December 18, 2020

IIB Program ends, check out of NYC program housing
---
Program Details
New Paltz is a highly ranked 4-year college, known for its teaching excellence and its creative, challenging and supportive learning environment. The IIB program is a customized one semester program for international students of Business, Communications and Management, offered by the university in conjunction with the New Paltz School of Business.
The rigorous academic program provides a foundation in U.S. culture and business practices in just two months. Students carry 5 courses and earn 5 CEU units.
Two (2) electives from AACSB - accredited New Paltz School of Business;

Two (2) IIB courses specially developed with the English-speaking international Business and/or Communications student in mind;

An internship practicum as preparation for an internship/field placement experience: and

Individualized career counseling sessions with an internship advisor.
Courses are taught by New Paltz Faculty, all experienced experts in their respective fields.


School of Business (2 courses)
Students can choose from graduate and undergraduate curriculum listed on the website and taught by department faculty. Together with their American classmates from the School of Business, they participate in classroom instruction that encourages the critical thinking, teamwork ethic, and globalized business approach that is characteristic of the U.S college education system.

IIB Courses (3 courses)
To compliment the Business School's curriculum, the IIB has developed two courses:
American Business Communication & Culture focuses on American business writing styles, techniques and terminology as used in letters, memos, reports, and presentations. This serves to strengthen English grammar and vocabulary skills for improved fluency, as well as to strengthen conversational skills that are necessary for business communication and networking.

Public Relations for the Business Major examines the use of persuasion and public opinion techniques in electronic media, mass media, and international advertising, providing insights into American public relations practices. Students write and present press releases, as well as review and critique websites.

Internship Practicum The practicum augments traditional classroom study with a weekly study and intern advisor-taught practicum in comparative analysis of home country and U.S business practices, understanding American business norms, and managing expectations. Alumni panels share their internship experiences, adding peer group guidance on the practical implications of field work and living in NYC.


Individualized Internship Counseling and Internship Preparation
Individual student counseling sessions provide a structured learning environment for preparing and reviewing resumes, applications, and interviews. Techniques in self-appraisal, self-presentation, and seamless integration into the workplace help students network and perform during their internship as well as articulate the benefits of their internship experiences for future career development.
---
Program Fee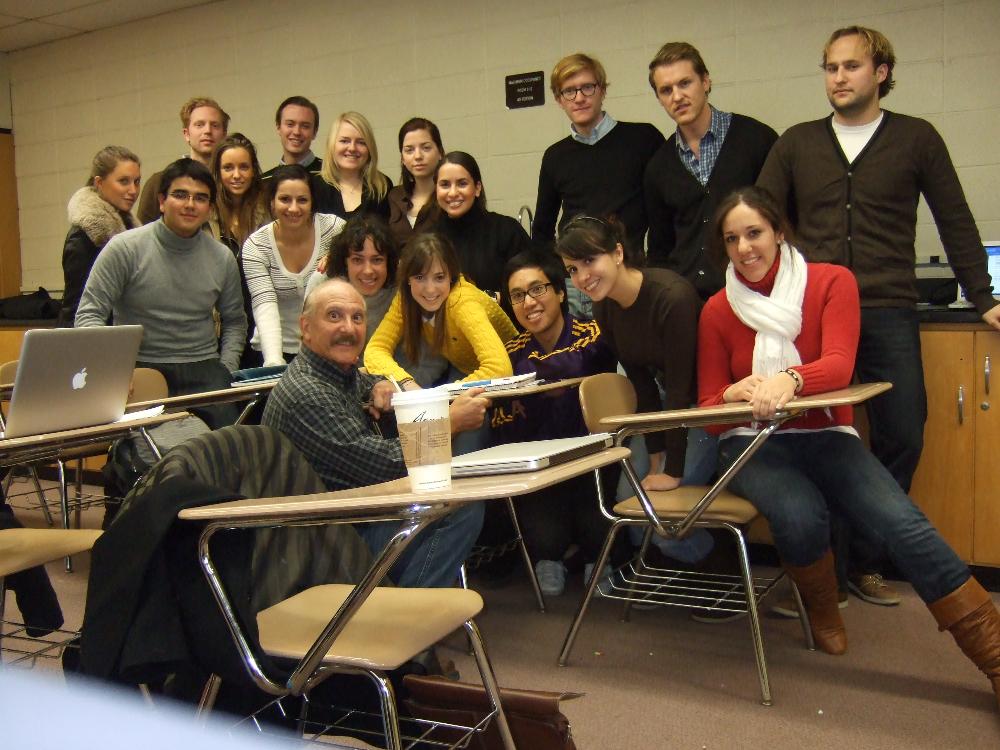 Spring 2020 Program Fee: $12,000
You will generally be housed with one roommate, although in some cases, you may have two roommates. Each IIB student will have a "meal plan" in New Paltz during the academic phase of the program. Students will be provided with required bedding in both New Paltz and NYC.

Fee Includes:
Housing for academic portion of program in New Paltz (On campus is possible, off campus if not)

Housing for internship portion of program in New York City (Dorm like setting)

Full-time internship at a company in New York City

Internship administration

Academic Instruction and program fees

Use of university campus facilities

"Meal plan" while studying at SUNY New Paltz

Social & cultural events (welcome reception, site visits, guest speakers, graduation, etc.)

Group transportation from the airport to New Paltz*

Group transportation to New York City residence

Issuance of the DS-2019 & DS 7002 for J-1 Intern status

Health insurance for duration of program status
Fee does not include:
Airfare

Meals and transportation expenses while living in New York City

Course textbooks (these are expensive and can vary from $100 - $400 per class)

Incidental personal expenses (estimated conservatively at $3500 for 4 months)
---
​Frequently Asked Questions (FAQ'S)
Q: How is the internship arranged?
A. The internship is a result of collaborative efforts on the part of the intern and the program coordinators. There are NO GUARANTEED INTERNSHIPS. You will work very closely with the program coordinator to review existing opportunities and to find new opportuntiies. You should be realistic and flexible in your internship goals. The IIB program seeks the following for an internship:
Full time opportunity (32-40 hrs a week)

An internship setting that provides an overview to American business practices

an opportunity to network with professionals working in your career area of interest

a learning environment where you will be able to "get your hands dirty" and support a team / manager in your internship with meaningful tasks & responsibilities.
Failure to meet regularly with the IIB coordinator, to respond in a timely manner to emails and phone calls requesting interviews, etc. will likley result in you failing to secure an internship in a timely manner. Failure to secure an internship before moving to New York City could result in your being dismissed from the program.
Q. What business courses are available?
A. Both graduate and undergraduate courses are available. Follow this link to learn more about the undergraduate business courses being offered in upcoming semesters, and this link to learn more about the graduate / MBA level courses. (Please note that course listings vary by semester, and not all of these courses are offered to IIB students each semester. Check with the program coordinator to ensure you have an updated course listing).
Q. What kind of students attend IIB?
A. IIB students come from all over the world. They are preparing themselves to enter the global marketplace with business and language skills that will help them get the jobs they want. To qualify for admission, they must have at least two years of university education in a business-related field, and should have some on-the-job experience. In addition, they should be able to demonstrate ability in English with 80 on the TOEFL / IELTS 6.5 or an equivalent test of English.
Q. What kinds of qualifications do the IIB instructors have?
A. The faculty, who teach business, public relations, business English, and American culture, bring with them a wide range of experience. Many of them have doctoral degrees in their field of expertise in addition to many years of on-the-job experience. You will have access to business and public relations professors and practitioners, business English teachers, and people who have been introducing American culture to international students for many years.
Q. Do IIB graduates receive credit or a certificate of completion?
A. Graduates of the IIB program receive a certificate of completion in American Business Practices and are issued continuing education units. Each continuing education unit issued is equal to ten contact hours of participation in an organized continuing education experience under responsible sponsorship, capable direction, and qualified instruction. Continuing education units are not equivalent to academic credit. Certificates of completion and transcripts are awarded at the graduation ceremony in New York City at the end of the program.
Q. What is the village of New Paltz like?
A. New Paltz is a small college town with many shops and restaurants that cater to the college community within walking distance of the college. It has a long history that goes back to the seventeenth century when the French Huguenots settled here after living in Germany for a number of years. Some of the original houses built by the Huguenots are available for touring, again within walking distance of the college. Many of the local inhabitants are descendants of the Huguenots, and bear the names of their ancestors.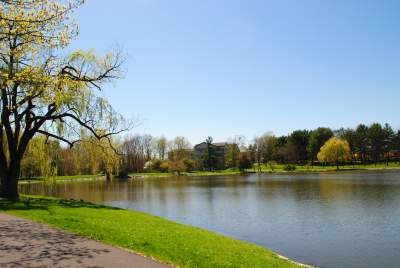 Q. What is there to do in the fall and spring semesters while I am there?
A. Here is a sampling of events that occur in both semesters: Year-Round Events
Q. What kind of visa is required to attend the IIB?
A. SUNY New Paltz will issue you the required documents for you to obtain a J-1 Intern visa at your nearest USA consulate or embassy. Visit the visa information page for more details.
Q. How long before my J-1 program starts can I arrive in the United States? How long can I remain after my program ends?
A. J-1 exchange visitors and their J-2 dependents are admitted for "duration of status" (D/S), which is defined as the period indicated in item 3 of Form DS-2019, plus a 30-day grace period following the program end date, "for the purposes of travel." In addition, exchange visitors can enter the United States up to 30 days before the program begin date listed on their Form DS-2019.
Q. Do I need to purchase health insurance?
A. Usage of our Health insurance policy is mandatory and is included in the program fee. Details are available under "learning content" once you start an application.
Q. What kind of health care is available to me in New Paltz?
A. There is a health center on campus which will take care of routine health problems. In more serious cases, local doctors can be used. If a student needs hospitalization, a local hospital will be used. The health insurance covers all these types of care, although co payments may be required. If a student needs to see a dentist, a local dentist will be recommended, but the SUNY health insurance does not include dental benefits.
Q. What kind of immunizations must I have to enter the United States?
A. You must show proof of immunization against measles, mumps, and rubella (commonly referred to as an MMR vaccination). A combination of one measles and one combined MMR OR two measles and one mumps and one rubella immunization will fulfill this requirement. NOTE: both sets of the MMR immunizations must have occurred after your first birthday. If you arrive and your immunizations are NOT up to date, you will be asked to take the required immunizations at our health center BEFORE you can start classes, or continue in the program.
Q. Will there be an orientation to SUNY New Paltz after I arrive?
A. Yes, you will arrive several days before classes start so that you can receive an orientation which will help you to deal with emergencies, learn the location of various offices across campus, resources in town, J1 visa rights and responsibilities, as well as learn about the college facilities.

Q. What kind of roommate will I have?
A. Your room mate in most cases will be another student (same sex) living in the dorms during your time in New Paltz, and likely be another IIB (same sex) student during the internship portion. We strive to put people together based on gender, age, and avoid putting you in a room with someone from your own country. This helps both of you to practice your English, learn about each other's culture, and to broaden your international network.
Q. What are the deadlines for applying?
A. The deadline for the fall semester is June 1, and the deadline for the spring semester is November 1. However, contact us if you have any questions. We can review applications for future enrollments, and in some cases, review them after a deadline, or in advance of an application window opening.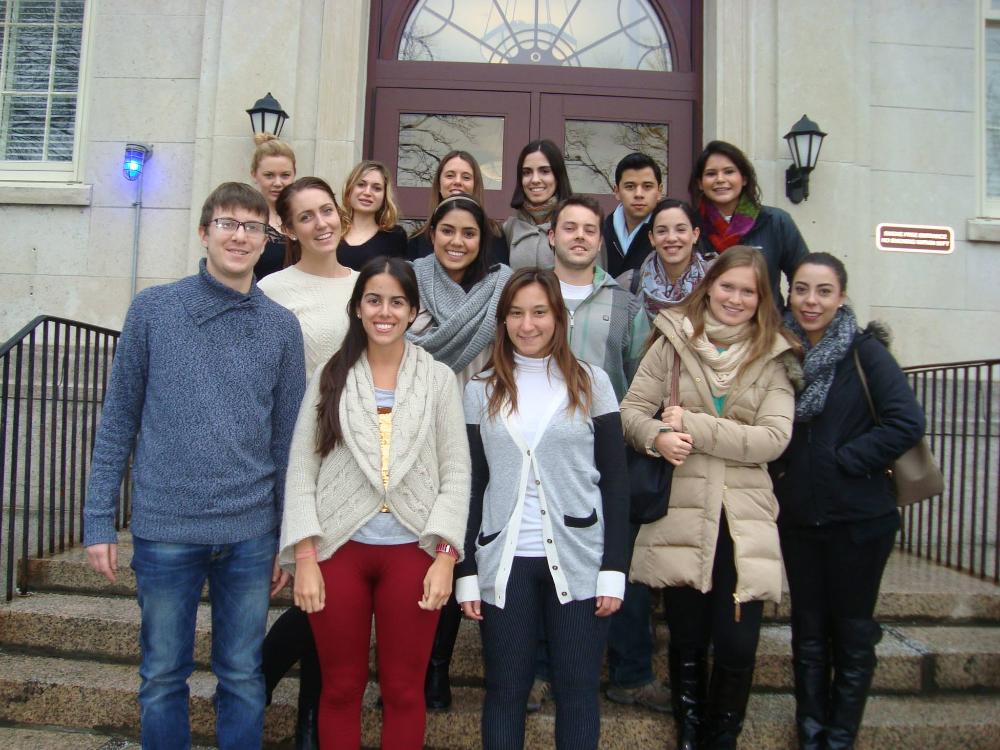 Q. What kind of local transportation is available?
A. Most of your needs will be met on campus or within walking distance of campus. There is a local shuttle that is free to students that can take you to most destinations in town. If you want to travel to New York City, frequent bus service from New Paltz is available. Round-trip bus fare to New York City is $30 - $40.
Q. Can I exchange money in New Paltz?
A. It is difficult to change foreign currencies into US dollars in New Paltz, so you should plan on bringing about $200 USD with you. Your bank card can be used most places while you are in the United States, as can most credit cards.
Q. How much will books cost, and where will I buy them?
A. All the textbooks and other materials you may need are available in the college bookstore. Textbooks are very expensive here in the USA. You may need as much as $200 for one textbook. Some students agree to share books, while other buy used books. It is sometimes possible to sell your books after you have used them. You can also pay a fee to many publishers to gain access to an online version of your text at a reduced rate.
Q. Should I bring my laptop computer with me?
A. If you have a personal laptop we would advise you bring it. However, you do not have to have a laptop to attend the IIB program. Computers with internet access are available to students at many places throughout the campus, and in NYC. While you might benefit from having your own laptop, it is not a requirement.
Q. Will my internship be arranged before I arrive in New Paltz?
A. No. Internships are usually arranged during the eight weeks that you are studying in New Paltz. This is because most employers require a face-to-face interview with potential interns. Shortly after you arrive, the SUNY New Paltz Career Advising Center will help you with your resume, and you will do a videotaped mock interview to help you hone your interviewing skills. Some students will interview with two or even three organizations before they are offered an internship. Your transportation to New York City for two (2) interviews is covered in the cost of the program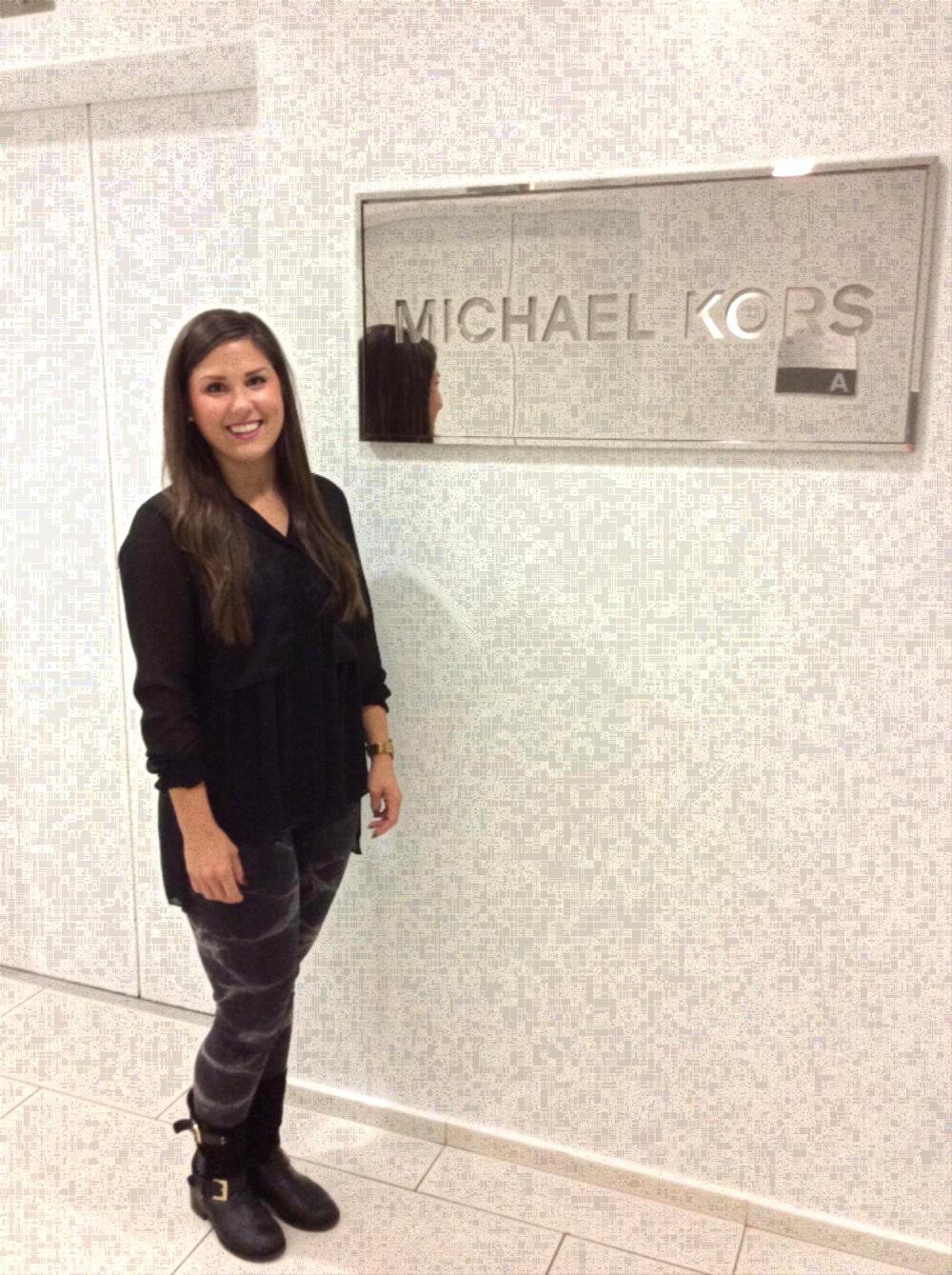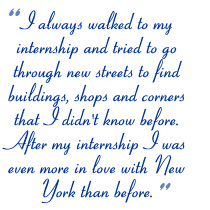 Q. Can I continue to work in my internship after the program has officially ended?
A. The J-1 Intern visa may be extended for up to 12 months. Speak to the IIB program coordinator if you are interested in extending your internship time. There are several requirements that must be met before you can extend. NOTE: if you extend beyond the end of the program, you will be responsible for paying for your NYC housing and all other living expenses, and must demonstrate you have the funds for an extension.




Q. Are scholarships available?
A. Unfortunately, scholarships are not available through the IIB. However, many students come on scholarships from the governments of their own countries or are sponsored by their employers. ITESM has an IIB scholarship available, if you are an ITESM student applying for IIB, contact your campus' international programs office to ask about this.
Q. Where can I find more information about SUNY New Paltz?
A. See this page

---
Housing
Housing in New Paltz
IIB students will either live on campus with other students (in dorms) or, if there is no room, off campus at a local hotel. All students must abide by rules & policies during their stay. Bed linens & blankets will all be provided during your stay (if applicable).
Housing in New York City
New York City is a large, cosmopolitan and diverse city. As such, short-term housing tends to be rather expensive. When the IIB program makes arrangements for student housing our goal is to provide our students with safe, clean, and conveniently located housing while in New York. While your room will not be luxurious, it will be clean, safe and accessible by public transportation. Base program fees include housing in both locations, based upon double occupancy (i.e., you will have a room mate).
---
Visa Information
Once you have been accepted to the IIB, in order for us to issue the DS-2019 & DS 7002 we will need the following documents:
A signed financial support statement if you are being financially supported by someone other than yourself such as a parent, employer, or any other type of sponsor. This statement says that this sponsor is willing and able to support you for the duration of your stay. (#9. on the application form below provides such a statement and a place for your sponsor's signature.)

A bank statement from your bank (or your sponsor's bank if being sponsored) verifying that you (or your sponsor) has access to at least $15,000 USD. This amount includes the program fee of $12,000 and personal expenses, meals in New York City, the cost of textbooks (which may cost over $350), and emergency funds (which we hope you will not have to use).